Rail electrification centre opens in Newport city centre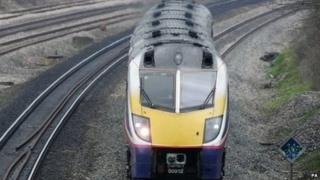 Rail electrification in Wales has moved a step forward with a dedicated nerve centre for the project opening in Newport city centre.
One hundred staff from Network Rail and ABC Electrification are moving into Norwich House, Gold Tops - the former office of Newport Unlimited.
The firms are behind the multi-million pound project to electrify the south Wales mainline.
Staff are expected to complete the move by the end of this week.
The project will pave the way for new electrified trains which will help to deliver improved journeys between south Wales and London.
Brian Fisher, programme director of ABC Electrification, said: "Norwich House, with its location overlooking the railway line and with good access to the M4, is perfect for our needs.
"The offices will be the nerve centre of our work helping Network Rail electrify the south Wales main line.
"Refurbishment work on the building is progressing to plan and we will be taking possession of the property and moving staff in immediately."