Aquaponic farm scheme produces fish and vegetables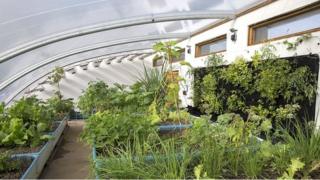 Students from different countries have been visiting a farm near Monmouth to learn about a sustainable way of producing food.
Aquaponics combines fish farming and vegetable growing, using waste from the fish as fertiliser.
A trial in the UK's first solar-powered aquaponic greenhouse is being run by TV presenter Kate Humble and husband Ludo Graham at their farm in Penallt.
One student from Kathmandu hoped the idea would help feed children in Nepal.
"I'm working with a children's orphanage so I want to establish this aquaponics system to supply fresh vegetables and fish," Baburam Shrestha said.
"I want to teach the children how the aquaponics works and disseminate the technology to others."
'Energy-efficient'
The course, backed by the Welsh government, attracted students from Nepal, Belgium, Denmark, Ireland and the UK.
Charlie Price, founder of the Aquaponics UK social enterprise, told the BBC Radio Wales agriculture programme, Country Focus: "We're trying to create an energy-efficient structure that can produce food all year round without reliance on fossil fuels.
"We'll be producing lettuce, fish, mushrooms, salad, and vegetable crops in winter as much as we are in summer.
"That's why we think its particularly valuable for a climate such as Wales."
Ludo Graham added: "Given our food challenges that we're going to face in the world in the coming years this felt like an intelligent way of producing food on a big scale in a small area."
You can hear more about the project on the repeat of Country Focus on Radio Wales on Monday at 05:30 BST, or catch-up with it on the BBC iPlayer