Firefighters rescue cat after four days up tree in Newport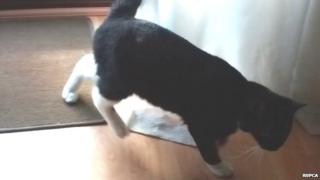 A stubborn cat that refused to budge from a tree for four days has been brought down from its lofty perch.
The RSPCA said the black and white cat bolted 40ft up the ash tree in Duffryn, Newport, after being chased by a fellow feline.
A tree surgeon from Newport council and a South Wales Fire and Rescue Service crew got the cat down on Friday.
The RSPCA's Gary Lucas said: "The cat was dehydrated and stressed, but otherwise was okay."