Rail defect theory after derailment at Porthkerry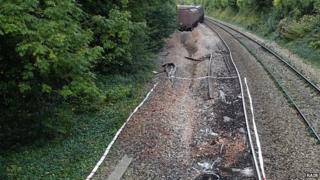 A defective rail probably caused the derailment of a freight train in the Vale of Glamorgan earlier this month, an initial inquiry has found.
The Rail Accident Investigation Branch (RAIB) report describes how the incident happened on the line between Barry and Bridgend as the train was pulling 21 loaded coal wagons.
The last two wagons were derailed and dragged along the ballast causing track damage at Porthkerry on 2 October.
The driver of the train was uninjured.
The RAIB report said: "The preliminary examination has revealed that the derailment was almost certainly caused by a defective rail which collapsed as the freight train passed over it.
"The RAIB's investigation will examine the sequence of events leading up to the accident and the cause of the rail failure.
"This will include consideration of the design, inspection and maintenance of the track."
A Network Rail spokesperson said: "Network Rail will take note of any recommendations raised in the RAIB report. These will be considered carefully and we will take action as appropriate."