People power persuades lollipop man back to Cardiff school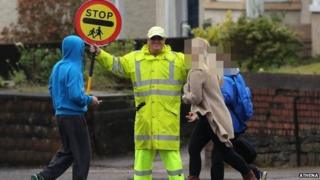 People power has won the day after parents and pupils combined to engineer a lollipop man's triumphant return to a Cardiff school.
'Colin the lollipop man' quit his job at Rumney Primary in disgust two weeks ago after suffering a foul-mouthed tirade from a motorist.
But rather than lose him, his schools friends took to Facebook to persuade him to return.
Colin has now taken up his lollipop again and says he is happy to be back.
The Facebook page called "Help Bring back Colin the lollipop man" became hugely popular within hours of being set up on 1 October.
Parents posted on the site to vent their anger at the illegally-parked mother whose language turned the air blue when she was politely asked to move on.
'Superstar'
Heartbroken pupils joined the appeal by posting letters at the school gate pleading for his return.
Cans of Colin's favourite drink were also left there as part of the wave of public sympathy and support.
Parent Sarah Elliott was delighted the campaign was so successful.
She posted on Facebook: "Was lovely to see Colin back this morning, but also to see how everyone (both parents and children) treated him like the superstar he is.
"Everyone was so glad to see him.
"We normally walk on the opposite side, but my daughter asked if we could walk on that side this morning just to see and talk to Colin."
'Absolute asset'
Another parent Steve Marshall agreed: "It's great to see Colin back. This is a real example of people power.
"There's a real need for Colin to be there because the road in front of the school main gate is so busy."
The positive action was also applauded by Jacqueline Parry, a local county councillor.
She said: "Colin is an absolute asset for the whole area and too good to lose.
"People were very angry at the way he was spoken to. The hope is now that he is back people will act less selfishly and be more polite.
"This is people power in action. It has brought the whole community together and does everyone great credit."