'Evil' burglar Samuel Mulligan targeted deaf man's flat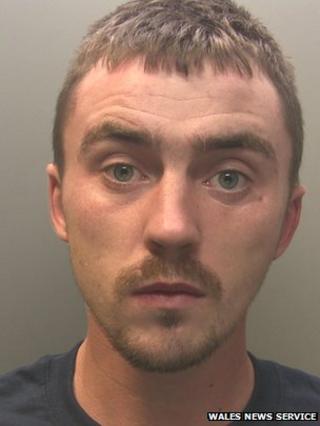 An 'evil' burglar who deliberately targeted a deaf man because he knew he would not be heard breaking in was caught after neighbours heard him ransacking the flat, a court has heard.
Samuel Mulligan, 24, from Newport, made friends with the 27-year-old deaf man and visited his flat.
He returned at night and smashed a hole in the roof and kicked down a door, Newport Crown Court was told.
Mulligan admitted burglary and was jailed for four years.
The court heard that Mulligan had made as much noise as he wanted because he knew the victim was profoundly deaf and would not hear.
However neighbours called the police when they heard the disturbance.
Prosecutor John Lloyd said: "Officers had to wake up the deaf man to tell him what had happened. He was so upset he was in tears."
The victim said in a statement: "The thought of him walking around my flat while I was asleep is terrifying. He could have killed me if he wanted to.
"This has been a terrible betrayal of trust. I cry sometimes when I think about it."
Jailing Mulligan for four years, Judge David Wynn Morgan said: "You have done a very evil thing.
"You deliberately targeted your victim because you knew of his vulnerability.
"You knew he was profoundly deaf and would not hear you."
A Gwent Police spokesman called Mulligan's actions "particularly disturbing".
"I hope that the sentence given today deters others from committing such cruel offences against the most vulnerable members of society," he said.