Pub fight peacemaker died after punch by Jason Grovell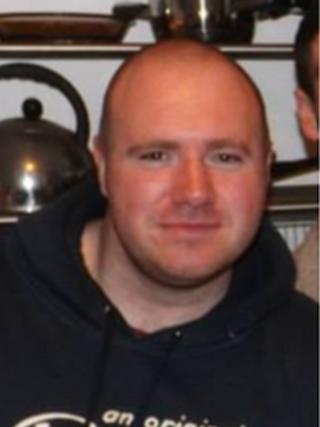 A man who tried to break up a fight outside a Caerphilly pub was killed after being punched in the head by one of the people involved.
Jake Sweeney, 26, fell and cracked his skull in two after the punch by Jason Grovell, 24, from Caerphilly.
Cardiff Crown Court heard how Grovell, 24, shouted "Boom" as he hit Mr Sweeney with a "gratuitous, forceful, unexpected and cowardly" punch.
Grovell, who admitted manslaughter, was jailed for four years.
The court heard Grovell, a father of one, had been drinking and taking cocaine while on a night out with friends in August.
A fight broke out outside the Irish Tymes pub after closing time and Mr Sweeney tried to act as peacemaker by coming between the brawlers.
As Grovell walked away he struck Mr Sweeney to the side of the head and was seen smiling and "bouncing like a boxer" before fleeing.
Mr Sweeney died four days later from his injuries.
Grovell initially claimed he did not remember the attack but then pleaded guilty to manslaughter.
Mr Sweeney's parents both read victim impact statements out in court.
His father Mark Sweeney said: "I'm totally heartbroken and I will miss Jake for the rest of my life. Life will never be the same again."
His mother Nancy Mantle said: "To anyone, Jake was a gentle giant but to me he was my baby boy.
"The day he died, part of me died with him."
Judge Eleri Rees told Grovell: "This was a cowardly act by you. Mr Sweeney didn't see the blow coming and had no chance to defend himself."