Ex-footballer Nathan Blake wins Welsh film festival award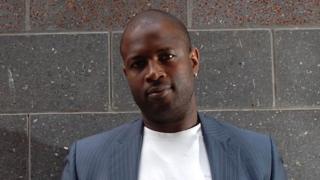 Former Wales international and Cardiff City player Nathan Blake has been honoured by a Welsh film festival for his work as an actor.
The footballer-turned-actor took home the award for Best Supporting Actor for his role in short film The Homing Bird, in which he plays a football coach.
Blake was recognised, along with others, at the Wales Millennium Centre in Cardiff for Film Fest Cymru 2014.
The 42-year-old former striker played 29 times for Wales, scoring four goals.
"I only have a couple of lines but I had to change my Welsh accent to my father's Jamaican accent but that was fine," the Cardiff-born Blake told Wales Online.
"I'll do as much as I'm offered. If someone said tomorrow 'We'll have you in EastEnders' then great."
Blake started his career with his boyhood club Cardiff City and went on to play for a number of clubs, including Sheffield United, Bolton Wanderers, Blackburn Rovers and Wolverhampton Wanderers, during a 14-year career.
In 1998, after scoring 48 goals in the almost three years at Bolton, he signed for then Premier League side Blackburn in a £4.2m transfer.
The award for BBC football pundit Blake comes a year after he was nominated in the same category for his debut role in Say It.
Famous footballing actors
Former Wimbledon midfielder Vinnie Jones starred in Lock, Stock and Two Smoking Barrels and Snatch, as well as Gone in 60 Seconds with Nicolas Cage.
Eric Cantona took to acting 17 years ago after ending his career at Manchester United. His first acting part was in 1995 French film Le Bonheur Est Dans Le Pre.
Former England captain David Beckham played himself in the Goal trilogy.
Pele and Bobby Moore featured in the 1981 World War Two film Escape To Victory.
The acting bug has been passed on to Blake's 12-year-old son, Jude, who has been involved in the touring production of The Lion King and performed on Sunday night during the Film Fest Cymru ceremony.
Blake is not the first former player to swap football for film.
Fellow Wales international Vinnie Jones has starred in a number of Hollywood movies, while former Brazil icon Pele, ex-Manchester United forward Eric Cantona and former England captain David Beckham have also appeared in films.
"I quite like doing things outside my comfort zone unless it's skydiving or swimming with sharks," Blake added.
Taking place at different venues around Cardiff, Film Fest Cymru also features events looking at how music, art, photography, theatre and dance relate to film.
Also honoured at the ceremony was Hinterland actor Richard Harrington, taking home the Inspiration award for helping to inspire the next generation of acting talent.