Dumper truck smashes through a wall in Cardiff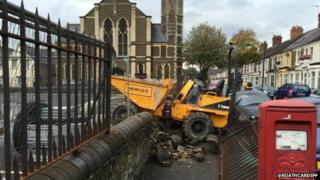 A dumper truck crashed into a wall in Roath, Cardiff, demolishing part of the brick wall and iron railings.
The one tonne vehicle smashed into a wall near the Mackintosh Sports Club on Keppoch Street.
There are reports parked cars may also have been damaged.
South Wales Police say it was an accident and no injuries have been reported.