Anti-IS protest stops M4 traffic on Second Severn Crossing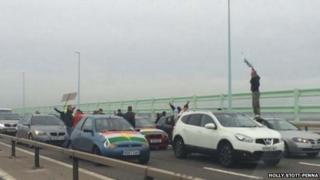 Anti-Islamic State protesters have held up traffic on the westbound side of the M4 Second Severn Crossing.
Gwent Police said a group of Kurdish people in about 10 cars campaigning against the militant group stopped in the middle lane on Sunday afternoon.
They were from Iraq and Turkey protesting against IS and were moved to a safe position after about 20 minutes.
The protest continued at the side of the toll booths before ending soon after, police said.
Protester Zak Uygun, a Turkish Kurd living in Cardiff, said: "It was the only way to get more attention of the people," he said.
"When we told them the reason they were really supportive."
Asked if he thought the group had got their message across, he said: "I think so."
Traffic Wales reported "severe" delays between junction 22 (Avonmouth) and junction 23 (Chepstow) which are on either side of the bridge but traffic is moving again.
Gwent Police Insp Mikah Hassell said: "It is important that, in our planning, we balance the rights of protesters with those affected, in this case motorists, all the while ensuring that everybody is kept safe which is our priority."
Police liaised with the owners of the Second Severn Crossing to ensure that toll booths were kept open to ensure traffic could flow freely.