Natasha Hugh jailed for laundering boxer husband's drug money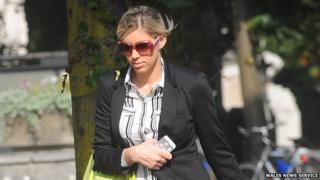 The wife of a former boxing champion who spent nearly £40,000 of his drug money has been jailed for 18 months.
A judge at Cardiff Crown Court accused mother-of-two Natasha Hugh, 27, from Newport, of "pure greed".
Hugh was convicted of money laundering after her husband Justyn, a former Welsh light-heavyweight champion, was jailed for 11 years.
She spent the money on bridal wear, casino tables for their wedding and a honeymoon to Barbados.
The court heard she spent the money, made from her husband's involvement in a £500,000 cocaine ring, over three years.
Defending, Howard Godfrey QC told the court: "She is plainly remorseful and wants to put this sad chapter behind her."
But Judge Stephen Hopkins QC told Hugh: "I do not accept you were genuinely remorseful, just sorry you were caught.
"It was pure greed and you were willing to tolerate your husband's behaviour because of the financial benefits of his drug dealing activities."