Butetown residents unhappy at flats plan near Hamadryad Park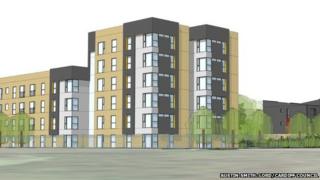 Residents fear parking problems will get worse if 75 new homes are built near a park in Cardiff.
Affordable one and two-bedroom flats and 20 houses are planned in the grounds of the old Hamadryad Hospital in Butetown.
Cardiff Community Housing Association has included 38 parking spaces but residents say this is not enough.
More than 300 residents have signed a petition and a public meeting has been called for Tuesday night.
The developers say the plans have been "carefully considered".
The housing would be built in the grounds of the old Royal Hamadryad seamen's hospital, which dates from 1905.
Some of it was demolished more than a decade ago but the main building is still used as a mental health centre.
It backs onto Hamadryad Park, alongside the River Taff and at the end of the Clarence Embankment.
Iwan Williams, of the South Docks Residents' Association, said the development was too large and parking problems were already a source of "anger and frustration".
'Local concerns'
Mr Williams said streets were already feeling the strain from parking from staff working at the Cardiff Bay police headquarters.
"It's affordable housing so we have no problem with that but it's the scale and design of it," said Mr Williams,
"It's more in keeping with the waterfront developments in other parts of Cardiff Bay and Grangetown rather than this very distinctive neighbourhood.
"It's disappointing that we can find the word 'community' only once in the planning document."
Plans for housing for the site have been put forward over the last 10 years but never come to fruition.
The developers say in their planning statement that the number of homes is "compatible" with the area and would not have a negative impact on the existing residential development.
It says apartments overlooking the park would help improve public safety and deter vandals.
Caroline Lewis, CCHA director of development said the homes were much needed.
"We have been working extensively with Cardiff council for the past four months to deliver a scheme which fully complies with residential planning policy," she said.
"This has involved working closely with the highways department to address parking issues within the immediate vicinity. We are aware of local concerns and have arranged to meet with residents to discuss these."
The public meeting at St Cuthbert's Church in Pomeroy Street is at 19:00 BST.