Bert Wall, 91, honoured on mural on Cathays street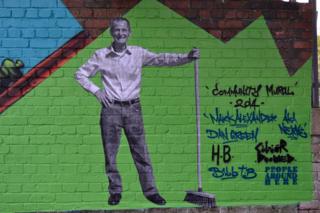 A good neighbour called Mr Wall has had a brush with fame after inspiring a mural on a wall in his Cardiff street, which became a target for vandals.
Bert Wall, 91, has been living on Cranbrook Street, Cathays for over 40 years and has been sweeping it clean every couple of days in that time.
Now life-sized photos of Bert and his broom have been used as part of People Around Here's project.
The £5,000 artwork has replaced the vandals's graffiti.
The project was backed by Tidy Towns.