Stubborn monkey Joey returns to owners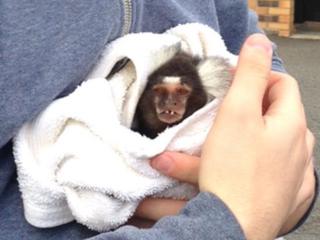 A marmoset monkey has finally emerged from its hiding hole after three days on the run.
Fire crews were called to a street in Ynyshir in the Rhondda on Thursday evening after the tiny primate was spotted nestling between buildings.
After trying various methods, they eventually got him out but he ran straight back into the 3ins (75mm) gap, where he stayed put and the crews left.
The monkey called Joey has now finally come out and is being assessed by vets.
He was found by a neighbour under the step of her conservatory.
Joey had been away from his home for three days and his owners, the Williams family, believe he was spooked by a cat or dog.
He was found lodged in the gap between two extensions at the rear of the Williams's terraced house.
Rhodri Williams, 21, whose father Dale owns Joey, along with two other marmosets, Poppy and Mya, said: "We tried everything to get him out."
The family, which has owned the monkey for two years, blocked the gap and provided him with food and water.
Fire crews from Porth and Pontypridd were called to the street at about 19:00 BST on Thursday to try to coax Joey out of the gap between the buildings, along with officers from the RSPCA.
Marmoset facts
Marmosets, whose natural habitat is the rainforest canopies of Central and South America, are among the world's smallest monkeys.
A typical adult can grow up to about 20 cm (8 in), not including its tail, and weigh up to 500 grams (1 lb).
One of the species, the pygmy marmoset, is the world's smallest monkey.
'Opened the cage'
David Bents, of South Wales Fire Service told BBC Radio Wales: "Naturally, we haven't got a tool on the fire engines that can just go and rescue a monkey.
"The crews had been there for an hour trying to knock up various implements, using fish rods with a bit of wire attached."
Mr Bents said Mr Williams had raised the alarm on Thursday evening after his pet, kept in a cage in his garage, had made a break for it two days previously.
The fire officer explained: "Two days ago he'd opened the cage and one marmoset had managed to get out of the cage and went on a bit of run next door, had come back into the garden and then disappeared up between the buildings where he has been for the last two days."
Mr Bents said the fire crews were eventually able to hook the monkey using a long piece of wood and pull him from the smallest part of the gap into a wider one.
"When he was freed, he turned round and shot back up into the smaller gap again."