Rhondda Cynon Taf agrees to open up merger talks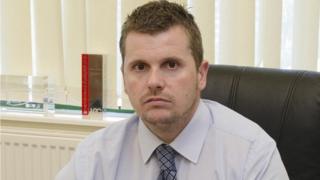 A south Wales council has agreed to explore the option of voluntarily merging with a neighbouring authority.
Rhondda Cynon Taf's cabinet voted on Thursday to begin talks, and submit a proposal, if it was in its best interests.
The council could join up with Merthyr Tydfil, which has also had exploratory talks with neighbouring authorities.
Ministers have signalled they want the number of councils in Wales to drop from 22 to 10 or 12.
The reduction was recommended by the Williams Commission.
Last month, Conwy agreed to open merger talks with Denbighshire whereas others have rejected similar ideas.
At the meeting, Rhondda Cynon Taf council leader Andrew Morgan said: "We may wish to argue that an authority the size of Rhondda Cynon Taf could feasibly argue to stand alone when you consider the economies of scale we already achieve when compared to neighbouring authorities, but we cannot strongly defend our position if we have not explored what opportunities there may be.
"The Williams report proposed this council merging with neighbouring Merthyr Tydfil and we already jointly deliver a number of services; this does not however mean that this proposal is the right one for Rhondda Cynon Taf or Merthyr Tydfil."
"It may be that another one of our neighbouring authorities may, and I stress only may, offer a better result from consideration of a merger," Mr Morgan added.
'Best solution'
When Welsh councils were last reorganised, in the 1990s, Merthyr Tydfil had been due to become part of a new authority serving an area that would also have included Blaenau Gwent.
But Conservative ministers agreed to amend the legislation, following a 'Save Merthyr' campaign and a push by the Labour Party for an extra council.
In a statement on Friday, Merthyr Tydfil council leader Brendan Toomey said his authority had engaged in "exploratory talks with neighbouring authorities" but that "no formal decision has been taken to undertake a voluntary merger with any authority at this time".
Mr Toomey added that Merthyr, Wales' smallest council, would "continue to have discussions with neighbouring authorities to ensure that any proposed merger delivers the best solution and meets the continuing needs and requirements of the people of Merthyr Tydfil county borough".
Elsewhere in Wales, Pembrokeshire council is to start talks about merging services with a neighbouring authority.
However, Newport has said it does not want to merge with Monmouthshire while Wrexham has signalled it is unwilling to join with Flintshire.