Cardiff half marathon's high hopes to beat Great North Run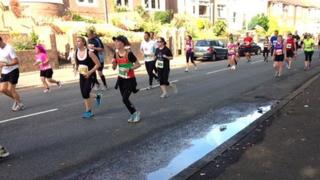 The UK's third largest road race takes place on Sunday with 21,000 runners competing in Cardiff's half marathon.
After the London Marathon and the Great North Run, the race is now the biggest of its kind in Britain.
Race organisers have ambitions to grow the event and make it bigger and better than its northern rival.
Organiser Nigel Roberts said: "It took them 20 years to reach 40,000 runners and we are exactly half-way towards that mark in our 12th year."
Race organiser Run4Wales believes Cardiff's chances of becoming the second biggest run in the UK will only improve in 2016, when the World Half Marathon Championships take place in the city.
For now though, runner and spectator attention will be focussed solely on this year's event.
On Sunday, thousands of athletes - amateur as well as professional - will pound the streets of Cardiff.
In 2003 the race had fewer than 1,500 entrants, but 10 years later numbers had risen to 19,200.
This year, 21,124 runners are hoping to complete the route - an 11% increase on 2013.
The route itself has changed too.
In 2012 a completely new route was introduced to include some of Cardiff's most iconic landmarks.
RUNNING THE NUMBERS
844,960,000 estimated number of steps taken by all runners while
276,724 miles will be covered by the runners
93,000 bottles of water will be out on the course
15,000 bananas will be given out to runners at the finish
1,600 crowd barriers will be used at the start and finish
600+ volunteers, students, clubs and charity groups help at the event
370kg of clothing left at last year's start line was donated to charity
200 traffic management officers from Cardiff council on the course
55% of the runners who entered are men
20 live bands will play on the day, including 15 around the course
3 cheering stations on course to motivate the runners
Sights along the route include Cardiff Castle, where the race starts, Cardiff City Stadium and Penarth Marina.
Runners then make their way through Cardiff Bay, past the Norwegian Church and Wales Millennium Centre.
From there the course heads north, completing a lap of Roath Park Lake before finishing at the Royal Welsh College of Music and Drama.
Some of those taking part will be hoping to break the current records.
Kenya's Loitarakwai Lengurisi holds the men's record with a time of 61:51 in 2013, while Britain's Susan Partridge holds the women's record of 71:10 in 2012.
The event is also to host the Welsh Half Marathon Championships, with previous Welsh winners including Swansea Harriers duo Philip Matthews and Andrea Whitcombe in 2011.
It is not all about beating records and finishing first, however, with many runners taking part on behalf of charities.
The 2013 competitors raised more than £2.3m.
And for those not taking part there will also be designated zones for entertainment and live music, with food and drink stalls lining the route.
Sunday will also include a wheelchair race, which starts 30 minutes before the main event at 09:00 BST, while Saturday has a 2.4km family fun run starting at 13:00 BST.
A number of road closures and diversions for Cardiff bus routes will be in place.