War reporter Jeremy Bowen honoured by Bafta Cymru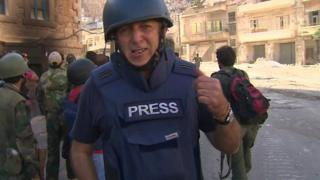 Jeremy Bowen is to be honoured at this year's Bafta Cymru ceremony for his decades of reporting from war zones.
The Cardiff-born journalist will be given the Sian Phillips Award at the Wales Millennium Centre on 26 October.
It is awarded every year to someone making a significant contribution to international film-making or network TV.
Bowen, currently based in Syria, said he was "humbled by this recognition" from the Welsh film and TV industry.
His 30-year career at the BBC has involved reporting from more than 70 countries and 20 wars including conflicts in the Middle East, Afghanistan, the Balkans, Africa and central America.
Bowen has also presented documentaries and had a spell presenting BBC TV's breakfast news.
Currently the BBC's Middle East editor, he has come under fire in war zones, most recently escaping serious injury when he was hit by shotgun pellets while reporting on street protests in Egypt in 2013.
Bowen has already won several honours for his work including Royal Television Society TV Journalist of the Year and Best News Correspondent at the New York Television Festival, as well as honours for BBC World News teams.
He said he was "delighted and honoured" to hear of the Bafta Cymru award.
"It means a great deal to me. My job takes a big commitment, and I'm humbled to get this recognition," he said.
Bafta Cymru director Hannah Raybould said Bowen was "an incredibly talented journalist and broadcaster... bringing some of the most important global stories into our homes and explaining them with clarity and compassion".
She added: "Despite his continuous international assignments, he has always found time to return to Wales to meet and support our next generation of journalists."
Crime drama Hinterland leads the list of nominations for the 2014 Bafta Cymru awards in nine categories, followed by Sherlock and murder-mystery 35 Diwrnod (35 Days) with five nominations each.