Newport council rejects Monmouthshire merger plan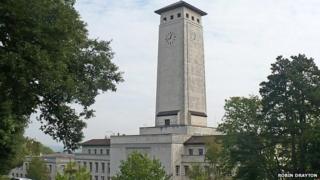 Newport council has rejected plans for a voluntary merger with neighbouring Monmouthshire.
Councillors voted against a recommendation by the Williams Commission, which wants the number of councils reduced from 22 to 10 or 12.
A council spokesperson said members felt "very strongly" that the city needed to retain its own identity.
But they did not rule out collaboration with other councils where work would benefit residents.
All parties which make up the council voted against the voluntary merger plan and the authority must now send its formal response to the Welsh government.
An alternative proposal to create four combined authorities has been put forward by the Welsh Local Government Association (WGLA).
That model would see them take responsibility for transport, health and social care and tourism services on a regional basis, while retaining the current 22 councils.