Vale of Glamorgan vet's suicide after cattle illness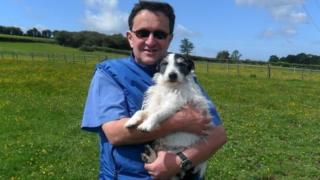 A vet killed himself after battling depression brought on by an illness from cattle, an inquest in Cardiff has heard.
Father-of-two Huw Davey, 58, of Treoes, Vale of Glamorgan, caught brucellosis after working with livestock.
The hearing was told that as a result he had suffered with depression for 20 years - a side effect of the condition.
A verdict of suicide was recorded after the inquest heard Mr Davey shot himself.
His former wife Liz Davey told the hearing that Mr Davey had telephoned her for help and she found him crying hysterically and threatening to kill himself.
"He said he had tried so hard but he didn't want to live anymore," Mrs Davey told the Cardiff inquest.
"I tried to persuade him things would get better. He said he was sick of waiting and that he had had enough."
Mrs Davey, his wife of 32 years, told how she went to his home before running to a neighbour for help.
But when she returned moments later her husband had killed himself.
The inquest heard Mr Davey had tried desperately to get help for his depression.
Mrs Davey said: "Over a period of 20 years there were very low points in his life and he got really depressed.
"He talked about it with me and when he was really bad he talked about ending his life.
"He tried all the help in the world to combat the depression."
Higher risk
An average of 10 cases of brucellosis are diagnosed each year in England and Wales.
The NHS said people at higher risk of brucellosis are veterinarians, farmers and abattoir workers.
Mr Davey spent two weeks at The Priory hospital in Bristol in April for treatment for his depression.
His GP Dr Ian O'Connor said Mr Davey was prescribed lithium at The Priory which helped and "made him feel better".
Mr Davey's mother, Mari, told the inquest in Cardiff she believed the NHS had let her son down.
She said: "After he left The Priory the NHS wanted him to see an NHS psychiatrist, not a private one, so that he could be prescribed lithium.
"He was waiting eight weeks, then six weeks.
"He was happy to pay to go privately but they wouldn't allow him. He found the row between private and NHS anxiety-provoking.
"There was no cooperation between the two."