Tongwynlais villagers oppose homes plan on open space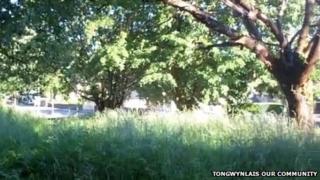 Villagers on the edge of Cardiff are fighting plans for new homes on a field, which they say will threaten an open space and a nearby nature reserve.
Residents claim five executive homes near woodland would ruin the character of Tongwynlais.
Cardiff North AM Julie Morgan said she had rarely seen the village "so single minded".
Developers say it would enhance the area. Officials recommend the outline plans are backed, with conditions.
Tongwynlais sits in the shadow of William Burges's Gothic fairytale folly Castell Coch.
The homes would be built next to a nature conservation site, Greenmeadow Wood, but local people say the field also helps protect species as well as being a green space enjoyed by children and walkers.
As well as letters of objection, 143 residents have signed a petition, held protest meetings and made a campaign video.
Members of the action group carried placards at a planning meeting in Cardiff. on Wednesday where councillors decided to hold a site meeting before making a final decision.
The local community council says the area should stay as green space.
'Destructive'
Before the meeting community councillor Michael Jones-Pritchard said: "It's a little bit of land which links the village with the woods, where people walk or take their dogs - it's well used and it's been there since time immemorial."
Julie Morgan said the field was a habitat in its own right, providing an important corridor for species in the wood, including bats, birds, slow worms and the great crested newt.
'Overgrown'
Mrs Morgan has met the developer's surveyor and has joined local councillors in opposing any development, saying it was "not a populist nimby [not in my back yard] revolt".
In a letter to the planning committee, she added: "To rip this nature reserve out of the heart of the village will be seen as an extremely destructive and cynical act."
Oxford-based Grafton Group has put forward outline plans for up to five five-bedroom executive homes.
Consultants for the developers say the plans "would not only enhance the site, which has become overgrown, but the wider area in general".
Its planning document said the field was not a public space or "used for recreational purposes" and that the area was not short of open spaces.
It said that details such as scale and appearance of homes would be dealt with in the future but it was looking to keep the footpath and would take measures to ensure no birds, bats or roosts were affected.
If the plans are given the go-ahead, officials recommend a list of conditions be attached to consent.