Newport MP Paul Flynn says passport service almost collapsed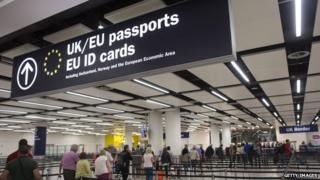 Delays processing passport applications were down to a chaotic organisation unable to cope says a Welsh MP.
Newport West MP Paul Flynn sits on the Home Affairs Committee which said people who paid extra for a fast-track service should be refunded.
"They had an emaciated service... the first time a bit of extra demand came along it virtually collapsed," he said.
Newport's Passport Office processed applications until 150 jobs were cut. It is now a customer support centre.
Problems with passport applications, due to what ministers called "exceptional demand", came to public attention in the summer.
At its peak in late June, the number of outstanding applications topped over half-a-million
The Passport Office has since cut the number of outstanding applications to about 90,000.
The Labour MP said there was a reluctance by the head of the department Paul Pugh "to recognise that here we had chaos on an unparalleled scale."
He added: "We're particularly hurt in Newport that we lost 150 jobs and we did say at the time it was unnecessary."
Mr Flynn said the only reason the service kept going was because hundreds of employees were working seven days a week and reinforcements were brought in from the Border Agency and other departments.