Cardiff University back in world's top 125, figures show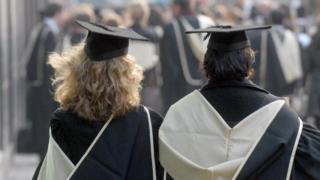 Cardiff University has moved back into the top 125 of world universities for the first time in four years.
The latest figures on higher education institutions across the globe place Cardiff jointly 123rd with Liverpool.
It has risen 13 places on last year and 20 over the past two years and is the only Welsh university in the top 200.
The highest position Cardiff, a member of the Russell Group of UK universities, has been was 99th in 2007.
Vice Chancellor Prof Colin Riordan said the university, which has 28,000 students, aimed to be back in to the top 100 by 2017.
He said: "We have made progress in the QS World Rankings since 2008 because we're making real efforts to improve our reputation and profile internationally.
"We have brought in world-class academics to develop and deliver our research, and are continuing to make a range of senior appointments.
"We also continue to invest in the very best facilities and equipment to help scientists and researchers reach their full potential."
The 2014 QS World University Rankings rated the world's higher education institutions into a table of 800.
This year's top three are the Massachusetts Institute of Technology (MIT), Cambridge University and Imperial College London.
After Cardiff, the next Welsh university is Swansea placed jointly at 461, with Bangor University placed jointly at 471.
Aberystwyth is the fourth Welsh university in the QS top 800 ranking, placed at 601st.