Indonesia jail man Mathew Davies's 'visa ran out'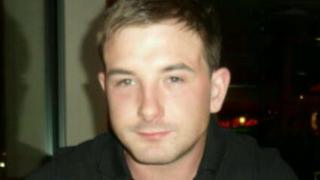 A 25-year-old man being held in a high-security Indonesian jail was detained because he violated immigration laws, the country's foreign ministry says.
Mathew Davies, from Blackwood, Caerphilly county, went to the country on a visa to work for a computer firm.
But when the job ended he started working as a waiter instead of returning home to Wales, it is claimed.
His family have appealed for help to free him, and claim he has has little food and no clean water in jail.
They said he is being held without charge at the notorious Cipinang Penitentiary Institution in Jakarta.
The Indonesian foreign ministry said Mr Davies arrived in Indonesia on a visitor's visa, which allows people to stay in the country for 60 days.
The visa was attached to a sponsor - the technology firm that Mr Davies worked for - and once he stopped working for the company he should have returned home.
But the ministry says he was caught working as a waiter in a restaurant.
'Claim money'
Karishma Vaswani, the BBC's Indonesia correspondent who spoke to the foreign ministry, said: "In other normal visa overstay cases, the overstayer can just pay a fine and then leave the country.
"But in Mr Davies's case, he actually violated immigration rules and therefore according to Indonesian law has committed a crime.
"The next steps in this case, according to the ministry, are that the details of the case will be sent to the attorney general's office which will decide whether or not to press charges."
Mr Davies's family have been told by friends in Indonesia they may need as much as £10,000 to help release him.
His mother, Yvonne, alleged: "They've just locked him up, they're holding him there and just trying to claim money off him all the time.
"I just want him home, I just need to see him."