Caerleon uni campus closure plan puts 145 jobs at risk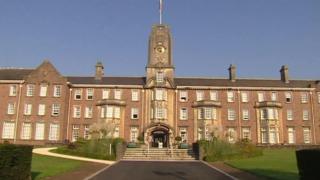 Up to 145 jobs are at risk after the University of South Wales (USW) confirmed it is to close its century-old campus at Caerleon, near Newport.
The institution, formed by the mergers of Glamorgan and Newport universities last year, is to focus on Newport.
The two-year phased closure of Caerleon would put security, administration and catering jobs at risk, it said.
The Welsh government said without the merger is was "entirely possible" the city would not have a university.
USW says it is talks with unions to avoid redundancies.
It added that no new students will be recruited to courses at Caerleon.
The college's board said the Newport city campus would have an immediate £3m cash injection.
Governors said the Newport campus is newer and cheaper to run than the one in Caerleon.
They are already looking at an expansion along the waterfront, which could cost up to £10m.
"Despite its history and the affection in which it is held by many it does not make financial or strategic sense and is not in the best interests of our students in delivering an exceptional student experience, to continue to invest in the Caerleon campus," said a spokesman.
Conservatives and Liberal Democrats said there had been a "betrayal" of staff and students, with Welsh government promises that campuses would stay open when colleges merged.
Shadow Education Minister Angela Burns said staff at Caerleon would be left in limbo.
Lib Dem education spokesman Aled Roberts added: "The merger only took place last year and we were explicitly told that campuses wouldn't close."
Local AM Dame Rosemary Butler had expressed concern about the future of the Caerleon campus, saying it had a fine history and was a big local employer.
The main Caerleon college building dates from 1912.
A Welsh government spokesperson said: "The decision to close the Caerleon campus is entirely a matter for the university.
"We were very proud that the creation of USW secured the provision of higher education in south east Wales and let's be clear - if the merger had not happened it's entirely possible there would now be no higher education presence in Newport at all.
"The investments planned in Newport city centre will place the university in the best possible position to attract new students."