Babysitter Jay Miller jailed for toddler attack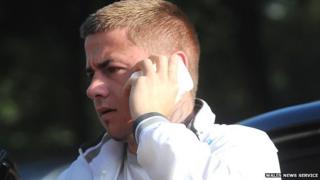 A babysitter who broke a two-year-old toddler's arm and carried out other assaults has been jailed for 30 months.
Jay Miller also held the young girl by her ears, hit her head, and left thumb and finger marks on the child's face.
The 21-year-old from Barry, Vale of Glamorgan, was convicted of grievous bodily harm and actual bodily harm.
Cardiff Crown Court heard the emotional impact on the child "could not be measured".
The court was told that the little girl - who cannot be named - sustained a fracture and bruises after her arm was pulled and twisted.
The incident took place while the girl's mother was attending hospital and job centre appointments.
'I'm so sorry'
The child's mother said Miller told her that "they'll blame me - I'm going to prison" when an ambulance was called.
Another witnesses said they heard Miller mutter "I'm sorry, I'm so sorry" as the toddler's arm was being put in plaster.
Miller had denied five assault charges, claiming the arm injuries happened when the girl fell from a bed.
Bruising to the child a few days later was due to her slipping on a grass bank, he claimed.
During his trial Miller told the court: "I have got a bit of a temper but it is not as bad as everybody is making out."
But expert medical witnesses told the trial that the spiral nature of the broken arm would be a unique case for the record books, if it had been caused by falling out of bed.
Jailing Miller, the judge Recorder Jonathan Furness said: "There are profound implications for the child and mother and the emotional impact of the case cannot be measured."