RSPCA litter warning as trapped hedgehog freed from lid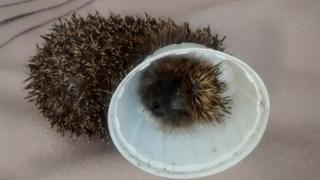 Hedgehogs are at risk of injury from litter, the RSPCA has warned, after one young animal was found with its head trapped in a plastic lid.
The stricken creature was found in St Mellons, Cardiff, at around 07:00 BST on Monday.
The hedgehog was kept safely in a box until the RSPCA arrived and cut it free from the abandoned packaging.
Animal collection officer Gary Lucas said: "We urge people to throw away their litter responsibly."
"Animals like hedgehogs are attracted by leftover food in containers like bottles, pots and tins and can get trapped or injured by litter," he added.
"Make sure you clean food containers and place them carefully into a rubbish or recycling bin out of the way of wildlife."
The hedgehog was being checked over by a vet before being released back into the wild.