Verdict due on minibus driver accused of cyclist death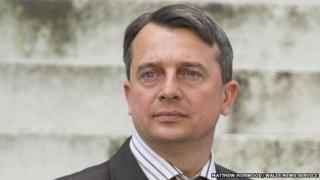 A jury is considering its verdict on a minibus driver accused of causing the death of a cyclist, who he hit while allegedly looking at photos on his mobile phone.
Andrzej Wojcicki, 45, of Blackwood, Caerphilly county, knocked Owain James off his bike on the A472 at Newbridge.
Mr James, from Oakdale, hit the bonnet and windscreen before falling onto the road, Cardiff Crown Court has heard.
Mr Wojcicki denies causing death by dangerous driving in July 2013.
'Highly dangerous'
The court heard Wojcicki was taking pictures of vintage cars on his mobile phone instead of looking where he was going.
Nicholas Jones, prosecuting, told the jury before they went out on Wednesday that "driving a large minibus weighing two and a half tonnes at 55mph when you are not looking where you are going is highly dangerous".
"The prosecution case is that this defendant did not see the cyclist until the collision because he was doing something instead.
"He was not looking where he was going and he was not paying attention to the direction of the van.
Mr Jones added: "The defendant was clearly taking pictures on his phone up to half a mile away from the scene of the collision."
Witnesses told the court the minibus continued for at least another 100m after the crash before stopping.
'Diligent driver'
However, Mr Wojcicki's defence counsel said there was no evidence from the phone that he was using it at the time of the collision or beforehand.
Lord Harley, representing Mr Wojcicki, told the court he was a "diligent driver" and rejected claims he was distracted by using his phone.
"A man has died and that is extremely sad, but for the purpose of this trial, I would say that it is largely irrelevant," he said.
"There is no evidence at all from the phone that Mr Wojcicki was actually using it at the time of the collision or before it."
Lord Harley said Mr Wojcicki's evidence was consistent, claiming that eye witnesses had been too far away from the scene of the crash to see accurately.
He said Mr James had swerved in front of the minibus and did not give the defendant the chance to brake.
"For him to come into the path of my client took less than a second. It was all over in a second," he added.
"The uncomfortable truth is that there simply is not any evidence that goes anywhere near proving him responsible for this crash.
"Just because Mr Wojcicki is the only man here does not mean he is guilty."