Girls suffer spinal injuries in sea at Llantwit Major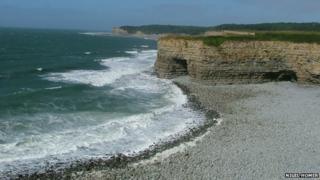 Two 12-year-old girls have been flown to hospital with spinal injuries after being thrown against rocks by powerful waves in the Vale of Glamorgan.
One girl was swept into the sea at Tresilian Bay, Llantwit Major, and her friend went into the water to help her.
Swansea Coastguard said there were at least seven or eight youngsters on the shoreline with no adults present.
They praised a 12-year-old boy who raised the alarm by dialling 999 on his mobile phone at 19:50 BST on Tuesday.
'Very inaccessible'
Coastguard duty watch manager David Hughes said the girls had been swept back on to the shore by the incoming tide but they were injured and told their friends that they couldn't move.
Llantwit Major Coastguard Rescue Team was sent to the incident along with ambulance service paramedics, police and a back-up coastguard team from Barry Island.
"It's a very inaccessible area and it was getting dark" said Mr Hughes.
"It's quite a job to get to the location and we realised it would be a long carry by stretcher, around a mile, over rocks and shingle.
"So we decided to call in Rescue 169, the RAF Sea King helicopter from Chivenor."
The girls were taken aboard the helicopter shortly before 22:00 BST and were flown to the University Hospital of Wales in Cardiff.
It was not known how seriously injured they were.
Mr Hughes praised the boy who called the emergency services, saying: "He did extremely well. You could hear the panic in his voice but he told us exactly where they were."
It had been a very busy day for Swansea Coastguard, he added, saying a high spring tide and large waves had caught people out on both sides of the Bristol Channel, bodyboarders in particular.