Circuit of Wales, Ebbw Vale: Wildlife study prompts concerns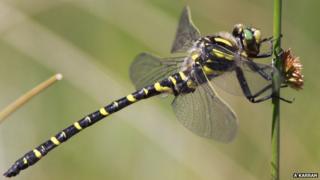 Conservationists are calling for more clarity on how wildlife on the site of a new £315m race track in Blaenau Gwent will be protected.
Gwent Wildlife Trust is an opponent of the Circuit of Wales plans on land near Ebbw Vale which has yet to be built.
It has just published the findings of a study into local wildlife and says rare species have been identified, with dragonflies a big feature in the area.
Race track bosses say they are committed to improving biodiversity.
They want to transform land into a major circuit to host all but Formula 1 racing and earlier this month, a five-year deal was signed to bring motorcycling's British MotoGP to Wales.
A Gwent Wildlife Trust spokesperson described the area as "incredibly valuable" for dragonflies with 12 species spotted, including the keeled skimmer, black darter and the UK's largest, the golden-ringed dragonfly.
She said the area has a rich mixture of heathland, streams and grassland with plants, including bog asphodel, bog pimpernel and the marsh violet.
Birds recorded during June's "bioblitz" included wheatears and skylarks, ring ousel and red grouse.
'Destroyed'
The spokesperson said: "Gwent Wildlife Trust continue to campaign against the proposals for the Circuit of Wales and the results of the bioblitz confirm our fears for the wildlife that would be permanently destroyed if the proposals were to go ahead.
"Detailed plans for how this loss of wildlife would be adequately mitigated for are still not evident."
But Michael Carrick, chief executive Heads of the Valleys Development Company which is behind the race track, said extensive environmental research has already been conducted, including a detailed environmental impact assessment.
"We aim to ensure Circuit of Wales is a haven for wildlife via the many ponds, trees, vegetation and grassy areas that will be created," he said, adding that the company wanted to work with local groups to develop the site's potential.
"We would therefore welcome the opportunity to engage with Gwent Wildlife Trust on biodiversity matters and are currently discussing very exciting ideas with conservation partners that would improve further still the biodiversity in the area and result in the re-emergence of a number of species in the area."
The racetrack plans which include hotels and a grandstand have been hit by delays with issues over common land and call for the Welsh and UK governments to commit up to £50m towards the scheme.