Nearly 150 Nantyglo homes still without gas after leak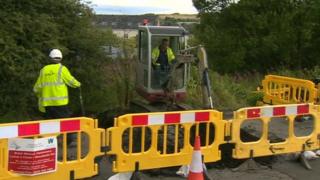 Engineers are trying to restore gas to nearly 150 houses which have been disconnected since last Thursday.
Wales and West Utilities said 755 homes were affected when a water leak flooded pipes in Nantyglo, Blaenau Gwent, and gas has been restored to over 600.
A spokesperson said staff were continuing door-to-door visits to re-connect those still without gas.
More than 150,000 litres of water has so far been pumped from about 10km (approximately six miles) of gas pipes.
A spokesperson for Wales and West (WWU), said at 18:00 BST on Tuesday: "We have now restored gas to over 600 properties and continue to visit door to door to reconnect gas supplies.
"All WWU staff will be carrying identification and we are asking people to please give them access to their gas meters to turn their gas supply back on.
"This continues to be a complex operation and we will continue to work around the clock to resolve this issue as safely and as quickly as we can."
Leisure centres in Abertillery and Ebbw Vale have been offering washing and showering facilities but Abertillery's centre was shut on Monday.
About 150 fan heaters and hot plates were given to vulnerable customers.
Tai Calon Community Housing also distributed heaters and microwave ovens for affected tenants to use.