1892 Park Slip mine disaster remembered in Tondu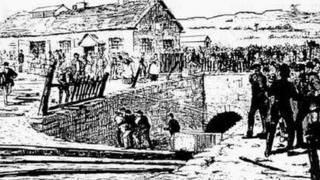 A mining explosion which killed 112 men and boys near Tondu in Bridgend county has been remembered.
The disaster at Park Slip exactly 122 years ago is thought to have started because of a faulty miner's lamp.
The rescue effort, which continued until late the next day, saw 39 trapped and injured miners brought to the surface.
A service was held at a memorial at the site, now a nature reserve.
Historian Neville Granville's grandfather John was among the last of the men to be rescued alive.
"The explosion happened at 8.20 on the Friday morning and he was brought out just before midnight on the Saturday," said Mr Granville.
Horrible conditions
The former Cornish copper miner, 32, went home to his wife and seven children and lived to have another five more.
But 60 women were widowed and 153 children lost their fathers on 26 August 1892.
"It was not something he talked much about but newspaper reports mention the horrible conditions," said Mr Granville.
Local doctor Frederick Twist managed to reach the men below ground and, despite the risk of a further collapse, he tended the injured and stayed with them until they were all brought out.
"He was in his 20s and showed real courage," said Mr Granville. "He went back up only when all the men had been brought back up. He and my grandfather had a lifelong friendship."
The subsequent effort to recover every person who died was relentless.
"Everybody was eventually brought to the surface," said Mr Granville. "Fifteen of the horses that died underground were also brought out - there was only one which was too difficult to reach. That's how carefully they went about it."
The pit itself eventually closed in 1904 but although the disaster is not the best known it is remembered by the community, which will hold a memorial service on Tuesday to remember those who died.
"It had a deep affect on this community and so it's important for us to remember," said Mr Granville.
WELSH MINING DISASTERS
Universal, Sengenydd (1913) 439 deaths
Albion, Cilfynydd (1894) 290
Prince of Wales, Abercarn (1879) 268
Gresford, Wrexham (1930) 266
Ferndale, Rhondda (1867) 178
Llanerch, Abersychan (1890) 176
Black Vein, Risca (1860) 146
Aberfan (1966) 144
New Mine, Risca (1880) 120
National, Wattstown (1905) 119
Cymmer, Rhondda (1856) 114
Park Slip, Tondu (1892) 112
Source: www.welshcoalmines.co.uk