100 Porthcawl residents protest over dumped harbour mud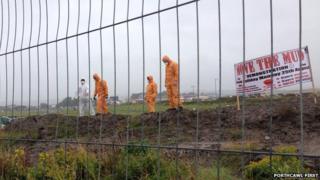 About 100 residents of a south Wales resort angry about the dumping of harbour mud on a car park have staged a protest calling for it to be cleared.
The silt was dredged from Porthcawl harbour as part of construction of the town's £3.2m marina.
Members of the Porthcawl First campaign group fear the debris may be dangerous.
Bridgend council said tests had shown the material posed no health risk, adding that work to remove it would begin in September.
'Neglected'
The authority said the silt was originally intended to be used as landscape fill for a new supermarket to be built as part of the regeneration of Porthcawl.
But when the Morrisons chain scrapped its plans for the store an alternative disposal method was sought.
Campaigner Steve Maitland Thomas said the waste piled up on the Salt Lake car park did not give visitors a good impression.
"Porthcawl has been neglected for 40 years," he said.
"To have 17,000 tonnes of contaminated mud dumped on the seafront is the straw that broke the camel's back."
Bridgend council said the contamination was low-level, and that tests by organisations including Natural Resources Wales had shown there to be no public health risk.
David Sage, deputy leader of Bridgend council, said: "It's been a complicated process and there have been many difficulties and issues to resolve, but I'm really pleased that arrangements are in hand for the removal of the silt.
"We continue to remain highly ambitious for Porthcawl and will soon be announcing details for the launch of a multi-million pound scheme to restore some of its historic older buildings as well as meeting with organisations who have some very interesting proposals for bringing the Jennings Building back into public use."