Cardiff Airport chief executive Jon Horne to stand down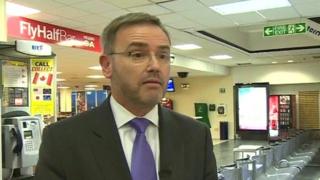 Cardiff Airport chief executive Jon Horne will stand down from the role on 1 September, it has been announced.
Mr Horne was appointed a week after the airport was bought for £52m by the Welsh government in March 2013.
He had been the airport's managing director previously, between 2001-2007, before moving to other senior posts in the aviation industry.
Debra Barber, who joined in May 2012 as operations director, has been appointed interim managing director.
In March this year, the airport saw a 9% increase in the number of its passengers since it was taken over by the Welsh government.
It bought the facility amid concerns about investment by its then Spanish owners.
Cardiff International Airport Ltd chairman Lord Rowe-Beddoe said Mr Horne had "very successfully steered the airport through the first phase of our path to re-establishing its fortunes".
He added: "This includes halting the decline in passenger numbers, establishing good and improving customer service and overseeing the physical transformation of the terminal as well as securing CityJet and the return of Ryanair to the airport."
'New perspective'
He added that Mr Horne will be available to advise the board.
In the same statement, Mr Horne said the "positive and significant" changes at the airport were a "great credit" to his team of colleagues.
He said: "There is still much work to be done, but I have agreed with the chairman that a new perspective will be beneficial for the next stage of development and as such I have concluded my executive involvement."
Ms Barber is a former RAF group captain.
She joined the air force in 1984, with 10 years experience as an air traffic controller before retiring as air traffic management force commander, responsible for all RAF air traffic units in the UK and around the world.
Lord Rowe Beddoe said: "Ms Barber played a leading role in the commercial development and expansion of Basrah International Airport in Iraq.
Volcanic ash
"She also had command responsibilities for the military element of the en route air traffic control centre at Swanwick in Hampshire, was directly involved in the UK response to the volcanic ash crisis in 2010, and represented the military air traffic management organisation during preparations for the 2012 Olympic and Paralympic Games."
Ms Barber said: "Our priority is to return the business to its previous level of success and beyond, focusing on increasing passenger numbers and enhancing the number of destinations on offer.
"Having received great feedback on the improvements we've made so far, I am pleased to have this opportunity to lead the airport through its continuing transformation."