Monmouth swimmers fear loss of pool in £33m school project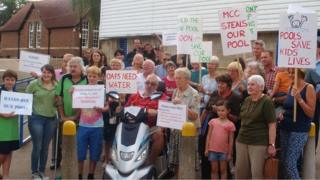 Swimmers in Monmouth are angry at plans to demolish a public swimming pool to make way for a new £33m secondary school.
Monmouthshire council said a new pool would be opened 12 months after demolition of the old pool.
It also said the town's private schools were willing to let other groups use their pools in the meantime.
Opponents claim they were not given enough notice of the plan, and fear a new pool may never be built.
The swimming pool, which opened in 1974, is due to be demolished as part of plans to build a replacement for Monmouth Comprehensive School.
Cuts fear
Brian Ramsey, from the Monmouth Swimmers campaign group, said they first learnt that the pool was under threat in June.
"The footprint of the school has moved, so the pool will have to be demolished to make way for the school," he said.
"With ever increasing cuts from central government, and despite promises by Monmouthshire, our main concern is that it will close and not reopen, as happened in Blaenavon in 2007," he added, referring to a pool which closed in the neighbouring local authority of Torfaen.
"Our nearest pool is 15-20 miles away - hardest hit will be those without their own transport as Monmouth is not well served by public transport."
Bob Greenland, deputy leader of Monmouthshire council and cabinet member for leisure, said: "The reason for the short consultation period is that the option to build part of the new school on the site of the swimming pool was only taken about a month ago.
"Were we to consult for longer the opening of a new pool would take even longer."
Demolition of the existing pool is due to take place in February 2015 when building work is scheduled to start on the new school.
The new pool would then open in February 2016 a short distance from the current site, with the school due to open later in the year.
'Priority users'
Mr Greenland said the council was in talks with Monmouth School for Boys and Haberdashers' Monmouth School for Girls about making their pools available to the public when not in use by pupils.
Both schools have offered the use of their pools for pupils and people needing swimming therapy for medical reasons.
However, Mr Ramsey questioned whether they could free up enough time for mandatory swimming lessons for children under the national curriculum, let alone use by other groups such as lifesavers and canoeists.
He said the campaigners would urge the council to revise its plans, and build a new pool before demolishing the old one.