Driver 'hit and killed cyclist while looking at mobile'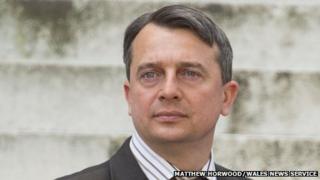 A minibus driver who was looking at photographs on his mobile phone hit and killed a cyclist, a court has heard.
Andrzej Wojcicki, 44, of Blackwood, was reported to have been looking at pictures of vintage sports cars when he knocked Owain James off his bike on the A472 at Newbridge.
Mr James, from Oakdale, hit the bonnet and windscreen before falling onto the road, Cardiff Crown Court was told.
Mr Wojcicki denies causing death by dangerous driving in July last year.
The jury was told Mr Wojcicki was driving at 50mph.
Prosecutor Nicholas James said: "The driver never saw the cyclist because he was distracted until after he collided with him.
"Because Mr Wojcicki was driving dangerously, he caused the death of Owain Richard James.
"It is as simple as that. You do not take pictures while you are driving along and then look at them.
"The minibus seemed to be drifting about slightly as if he was distracted.
"He never braked and he did not stop for some considerable distance after the collision."
Mr Wojcicki had told police officers that Mr James had swerved out in front of his left-hand drive minibus.
The trial continues.