Gwent Police chief faces no action over fraud case complaint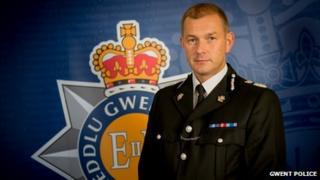 The chief constable of Gwent Police will face no further action over concerns raised following the acquittal of two men in a fraud case.
Investigations into Jeff Farrar and former chief constable Carmel Napier have been closed by Police and Crime Commissioner Ian Johnston.
But complaints against four other officers have been referred to the police watchdog the IPCC.
It follows the case against two men who were cleared of false accounting.
Torfaen council employee Farooq Dastgir and businessman Gary Inchcliffe were found not guilty following a trial.
Mr Dastgir lodged a complaint following his trial, which led to Mr Farrar, his predecessor Ms Napier and four officers being investigated.
'Absolutely refutes allegations'
The Police and Crime Commissioner for Gwent, Ian Johnston, who carried out the investigation into Mr Farrar and Ms Napier, said: "I can confirm that I have dealt with a complaint from Mr Dastgir and do not propose to take any further action.
"There are procedures to be followed in such cases, including a right of appeal against my decision and it would therefore be inappropriate for me to comment any further at this time."
An IPCC spokesperson said: "An initial referral was assessed on the information available by the IPCC and in June we referred the complaint back to Gwent Police for them to deal with.
"The complaint has since been re-referred to the IPCC, with further information, and we will be assessing it."
A force spokesman said Mr Farrar "absolutely refutes" the allegations made by Mr Dastgir but welcomed the "transparent open scrutiny and review that anyone in public office might expect when complaints are made".
He added: "No enquiries will be made, or investigation carried out, by Gwent Police until the IPCC has made a decision."