Noisy cockerel warning to Church Village policeman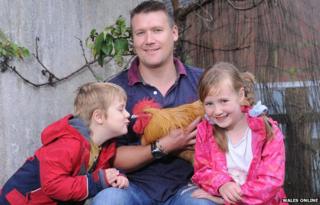 A cockerel's call is one of nature's alarm clocks.
But the crowing of a cockerel in one village has become a bone of contention among residents.
Bomper's dawn crowing at his home in Church Village, near Pontypridd, has led to warning letters to his owners from Rhondda Cynon Taf council.
Owner and police officer Geraint Rees has been threatened with prosecution unless he gets rid of the bird. The council said the case was ongoing.
Mr Rees began receiving letters from the council after Bomper started crowing as early as 04:30 BST.
He built a breezeblock house for the cockerel in an attempt to keep the noise down, but the complaints continued.
The family has launched a Facebook group to save the cockerel claiming many neighbours are happy with him.
Mr Rees, 37, said: "It's heartbreaking to think we could lose him."
Nature lessons
The policeman keeps animals and grows fruit and vegetables at the family home, which he shares with wife Cerys, 36, and children Seren, six, and Taran, four.
"Having Bomper and the other animals is a great way to teach our children about nature and where food comes from," he said.
"We've even taken Bomper to the local primary school to teach the children about farm animals - it's heartbreaking to think we could lose him."
Despite reports of complaints, the page includes messages of support from some neighbours who say they are happy for the cockerel to stay in the area.
A spokesman for Rhondda Cynon Taf council said: "We are investigating complaints in relation to noise pollution.
"No charges have been brought at this time and the case remains very much ongoing."