Newport medieval ship's future concerns restoration group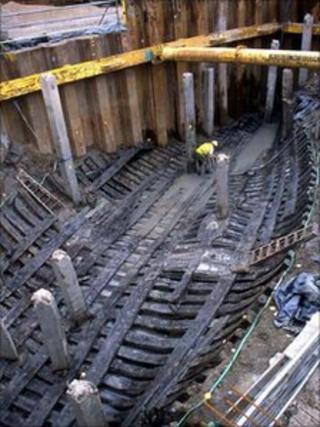 Supporters of Newport's medieval ship have raised concerns about its future if a new home for it is not found soon.
The 500 year-old vessel, found on the banks of the River Usk in 2002, is currently undergoing preservation at a warehouse in Maesglas.
But the lease runs out this year and its future funding has previously been threatened by council budget cuts.
Newport council said it was trying to find a new premises for the ship.
The vessel, which dates back to 1460, was discovered during the construction of the Riverfront theatre 12 years ago.
It is the most complete surviving example of a ship of its time and experts think it was used for trading as far south as Spain, capable of carrying a cargo in excess of 200 tonnes.
It is thought it was built in south-west France, the Basque country or Portugal, but how it came to rest in Newport remains a mystery.
The Friends of Newport Ship, a charity which supports the conservation project, regularly hold open days to tell its history and share the techniques used to preserve it.
But they fear their next one on 16 August could be their last.
A spokesperson for the charity said: "For such a long time the council has dragged its heels and wasted time in securing a future home for the most important maritime find in the last century - more important in an international sense than even the Mary Rose.
"As the lease for our current home expires before the end of 2014, and the moving process could quite easily take us two to three months, we are obviously getting more than a tad concerned.
"In Bristol last month academics from all over the world, professors from Oxford, Bristol, and many Italian and Spanish universities came together for a weekend to discuss the ship.
"Yet Newport council cuts and cuts the budget, makes promises it seems unable to honour and we are sorely afraid that the ship will just be put into a series of containers and left to fade from the public memory."
A spokeswoman for Newport council said the authority was in the process of securing a new premises to house the ship and more details would be available in due course.