'Cardiff pound' feasibility study launched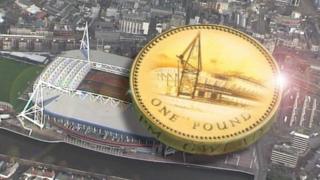 Cardiff could be set for its own currency, after the idea has won backing by a local housing group.
A trader studying the idea said a 'Cardiff pound' could have benefits for the city.
Michelle Davis is investigating the feasibility of a currency people would only be able to spend at shops and businesses in Cardiff.
But some Cardiff businesses have already raised concerns.
The scheme's aim would be to emulate the success of the Bristol Pound, a community currency that has seen £100,000 in bank deposits since its launch last year.
Cardiff Farmers Market director Gwion Thorpe explained: "It works so that you invest your own money and get a Cardiff pound back - £1 for every Cardiff pound.
"The idea then is that you spend that money in local businesses that are part of the project."
The Bristol pound
A Bristol Pound is worth £1 sterling
More than 500 Bristol firms have signed up to the currency
The currency is the UK's largest alternative to sterling
It comes in £1, £5, £10 and £20 denominations
Retailers which accepted the currency would face small additional costs in managing their accounting systems, but that poses concerns for some.
But Beca Avci, owner of High Street coffee shop Atlantic Coffee, said: "To be completely honest, I don't think people will go and exchange their money.
"They would be stuck then with that money if they couldn't find what they want in those shops.
"It would be a nightmare then for the people that own the shop. Would they be able to exchange that money in a bank? Those types of things need to be considered."
Cadwyn Housing Association is employing Ms Davis one day a week from September on the project, which is close to her heart as part owner of a city centre retail store.
"If we getting a buzzing local economy and a buzzing local pound here as they have in Bristol, the benefits will outweigh the difficulties," said Ms Davis.