Woolly outfits surprise for statues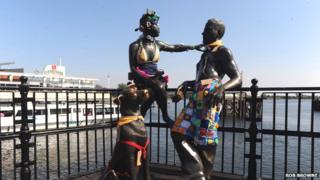 Wool is not usually the thing to wear when the sun is beating down, but a trio of statues in Cardiff Bay have found themselves clothed in an unexpected layer of it.
The statues, known as People Like Us, were dressed by a group of so-called guerrilla knitters, who clandestinely put their offerings in public spaces.
Welsh Woolly Wo(men) say their aim is just to make people smile and "beautify the local".
The clothes appeared on Thursday.
The organisers, who have not revealed their identity, said people had put "hours of work" in to the clothing, especially the shorts.
The unexpected rebranding comes just as the council opens up the urban beach in the bay's Roald Dahl Plass for the summer holidays.