Penarth Pier voted best in year by National Piers Society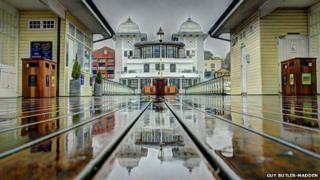 Penarth Pier is the toast of its peers after winning a best-of-the-year award following a £4.2m refurbishment.
The Victorian pier landed more than twice the number of votes of its nearest rival, Cromer, in the poll by the National Piers Society (NPS).
The restoration of its pavilion now sees the Vale of Glamorgan venue boast the only cinema on a pier in the UK.
Last month Wales and Real Madrid footballer Gareth Bale filmed an advert for a sports network on the pier.
Opened in 1895, the pier drew hundreds of visitors, many of whom arrived there by paddle steamer.
A wooden pavilion was built originally but burnt down and the current structure first opened in 1929.
But in the 1970s, the pavilion's fortunes began to wane and a campaign later started for public funding for the current revamp.
Plans to restore the art deco-style pavilion were given the go-ahead in March 2011.
The work on the Grade II listed pavilion included a gallery, cafe, observatory and community workspace. The cinema is the first in Penarth for 43 years.
Announcing the award, the pier society said: "Aside from the pavilion, the pier is popular with anglers and will be receiving visits from the Waverley paddle steamer in the autumn.
"It's deck is studded with brass plaques purchased by grateful visitors."
NPS president Gavin Henderson said: "Well done Penarth! A beautifully refurbished pavilion and an active landing stage - what more could one ask?"
Bangor's pier was third in the society's pier of the award.