Cardiff among top in European satisfaction survey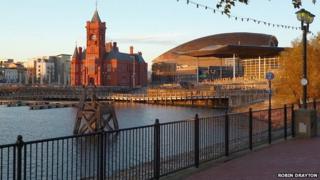 Cardiff has beaten London, Manchester and Glasgow as the place where residents feel the most satisfied to live, a survey has found.
Locals are also the most likely to feel satisfied with their lives in Cardiff as well as their finances.
The city came top of the list for having green spaces and for being easier than other cities to find work.
The survey was carried out on behalf of the European Union and included six UK cities out of 79 across Europe.
The others were Newcastle-Tyneside and Belfast. It also included a survey for the Manchester surroundings area.
In numbers - the Cardiff satisfaction statistics
Satisfied to live in Cardiff - 95%*
Personal satisfaction with life - 93%*
The place you live - 92%
Financial situation - 79%*
Job situation - 66%*
Safety - 83%
Air quality - 89%
Noise level - 85%
Cleanliness - 73%*
Green spaces - 89%*
City's commitment to fight climate change - 64%
Trust in local people - 74%
Trust in city administration - 68%
Integration of foreigners - 66%
*indicates top score for six UK cities surveyed
The perception of quality of life survey is done every three years to help policy makers and urban planners tackle problems in development.
People's perception that "it is easy to find good housing at a reasonable price" has gone down in Cardiff since the previous survey, and it was second behind London in disagreeing with the statement.
Cardiff people tied with Belfast just behind Newcastle in thinking the city was safe to live in.
The recent developments at St David's 2 may have helped make the shopping experience in the city the best rated out of the six too.
Cardiff scored highly in satisfaction with its cultural facilities, not just at a UK level but also Europe-wide.
It was the joint-fifth happiest with the offerings in the city, only coming behind Vienna, Helsinki, Graz in Austria, Zurich and tying with Groningen in the Netherlands at 93% satisfaction.
'Excellent news'
The report noted that while Cardiff may have rated ease of finding a job higher than other UK cities, it was still a concern to people across the UK.
Cardiff council leader Phil Bale said: "Cardiff has been reinvented over the past 20 years through sustained investment, with a focus on sporting, cultural and leisure infrastructure.
"It's therefore excellent news that the latest urban audit results reflect this with Cardiff ranked as the top UK city for quality of life, and one of the highest performing European capital cities across a number of indicators.
"This demonstrates Cardiff is well placed to deliver our vision of becoming Europe's most liveable capital city."
He added the report had identified areas of improvement including job creation and public transport.
"That's why the recent announcement by the BBC to relocate their headquarters to the enterprise zone, the regeneration of Central Square and the plans we set out last week for a new integrated transport hub for the city are so important," Mr Bale said.