Pair cleared of trying to drown Leanne Ware in river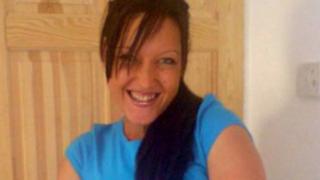 Two men accused of trying to drown a woman in a Cardiff river have been cleared of attempted murder.
Leanne Ware's partner Martin Edwards, 43, and friend Gary Pincott, 55, were accused of trying to kill her by attacking her and pushing her body into the River Taff.
Passing soldier Capt Mark Gold, 43, went to her aid along with a doctor out running, Cardiff Crown Court had heard.
Edwards was convicted of unlawfully inflicting grievous bodily harm on her.
He was also found guilty of assaulting Capt Gold as he tried to help her.
Edwards, of Cardiff, was sentenced to three-and-a-half years in jail for grievous bodily harm and seven days for the assault.
Mr Pincott, of Barry, was cleared of inflicting grievous bodily harm on 31-year-old Miss Ware.
The jury found both men not guilty of attempting to murder her.
The court had previously heard how Capt Gold was walking with his wife and children when he saw Miss Ware being kicked and punched on the riverbank in Cardiff city centre.
He told the court Miss Ware was then rolled into the river "like a log".
He rang 999 and watched as Edwards swam out to her before the pair got caught in reeds on the riverbank last February.
Capt Gold went to her aid, fighting off Edwards, and screamed for help, the jury was told.
The shouts were heard by a doctor out jogging, Dr Hannah Hetherington, 34, who resuscitated Miss Ware with Capt Gold.
Mrs Justice Lang QC told Edwards the evidence suggested he scuffled frequently with Mr Pincott and it was "fuelled by drink".
"On February 16 you had been drinking by the Taff embankment and were sufficiently drunk," she said.
"You were scuffling, pushing and kicking each other and you intended to put her in the river.
"You were angry with her and left her a bit too long.
"You stopped Gary Pincott who was trying to protect her from you. Once you realised she was in trouble you went into the water and tried to help her.
"The reason you dived in must have been to rescue her. If you did not rescue her she certainly would have died."