Asylum office problems led to Cardiff case backlog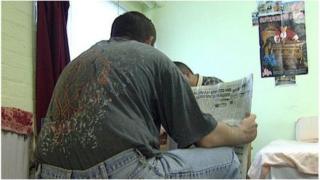 Problems with managing asylum claims in Cardiff led to a backlog of nearly 800 cases, an inspection found.
A poorly managed system for casework led to nearly half of staff leaving in 2013, a report by the Chief Inspector of Borders and Immigration said.
Across the UK, similar problems led to a backlog of over 13,000 cases.
A Home Office spokesperson said it fully accepted the recommendations and had increased staff resources and introduced a national structure.
The situation at Cardiff - one of 10 casework processing units - helped inspectors gain an insight into conditions across the service UK-wide.
The inspector noted that staff were committed and took their responsibility to safeguard vulnerable individuals seriously.
However, he also found that proposals to restructure casework in early 2013 were suspended in September following the loss of significant numbers of experienced staff, which meant 43% of caseworkers in Cardiff were lost.
As a result, 773 cases in Cardiff and 13,628 around the UK were in a backlog by the end of 2013, with nearly half waiting longer than six months.
He also found the main focus of staff was on less complex cases which they thought could be resolved in 30 days, with more complex cases not being referred for interviews and decisions.
Chief inspector John Vine said the Home Office aims to clear the backlog by March 2015.
"This will be challenging as it will require significantly more asylum decisions to be made in 2014 than have been made in recent years and with a less experienced workforce," he said.
The Home Office said it was already acting on the recommendations, which included deciding all applications within a standard amount of time and informing people when this was not possible, and evaluating its previous change programme in order to improve management of future ones.
A spokesperson added: "We have increased staff resources on compliance, have introduced a national structure for compliance teams and have increased our fraud savings target."