Leukaemia prognosis test developed at Cardiff University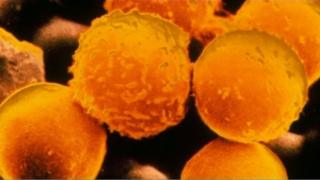 A test which predicts the prognosis for patients with one of the most common forms blood cancer has been developed.
About 3,200 people a year are diagnosed with Chronic lymphocytic leukaemia (CLL) in the UK - mostly affecting people over 60.
Now scientists Cardiff University have been able to measure genetic material to see if cells are working in people with the illness.
They hope the findings could help the develop other cancer tests.
'Confident predictions'
The test works by measuring tiny structures at the end of chromosomes called telomeres, which protect them from damage when a cell divides.
Telomeres get shorter every time division occurs, until they get too short and the cell is sent a signal to stop dividing and die. The signal does not happen in CLL cells.
The team have previously developed a drug that targets the cancer cells to stop them multiplying.
Lead researcher at the university's School of Medicine, Prof Chris Pepper said: "For the first time, confident predictions of clinical outcome can be made for individual CLL patients at diagnosis based on accurate analysis of the length of telomeres in cancer cells.
"This should prove enormously valuable to doctors, patients and their families and there is no reason why there should not be widespread implementation of this powerful prognostic tool in the near future."
The outcomes for people with the disease vary from just a few months' survival after diagnosis to never needing treatment.
Dr Matt Kaiser from Leukaemia and Lymphoma Research which jointly funded the study with Cancer Research UK said: "The accuracy of this test in predicting how a person's disease will develop is unprecedented and, if confirmed in clinical trials, would help doctors decide on the best treatment courses for individual CLL patients."
Henry Scowcroft from Cancer Research said: "One of the most difficult aspects of a cancer diagnosis to cope with can be the waiting and uncertainty, and anything that could help patients plan their lives and immediate futures can only be a good thing."