Doorstep cold callers warning after Cardiff builders convicted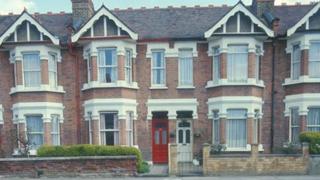 Householders are being warned to be wary of doorstep cold callers who may be trying to prey on vulnerable people and con them out of cash.
Investigator Andrew Bertie's comments come a day after four Cardiff men admitting conning older people out of £70,000 for shoddy building work.
Mr Bertie, from trading standards' Scambusters team for Wales, said most legitimate firms no longer cold called.
He said the trading standards motto is "if in doubt, keep them out".
Tom Connors, 23, Richard McCarthy, 21, Ben Jones, 23, and Keith Palmer, 21, pleaded guilty to 13 charges of conspiracy to defraud at Newport Crown Court on Friday.
Connors was jailed for 38 months, McCarthy for 24 months. Jones and Palmer's sentences of 11 months each were suspended for two years.
They had carried out overpriced, shoddy and unnecessary work for 14 home owners, the court was told. The youngest was 61, the oldest one was 98.
Mr Bertie's team worked with two Welsh police forces and eight councils to track and prosecute the gang.
'Be aware'
Others targeted were ill, had mobility problems or were caring for a sick partner, Mr Bertie said.
He told BBC Radio Wales the investigation showed the gang knocked on doors to find potential victims.
He warned that other opportunist cold callers may try to do the same.
"Sometimes when there's a knock on the door, they're trying to identify people," he said.
"We certainly found that in this case, that once they've found you, they will continue to come back. I'm not trying to frighten people by that.
"If people knock your door and it's a cold call, straight away that should put you on your toes, so to speak, to be aware that there could be a possibility that this is the line they are going down.
"Legitimate businesses don't tend to use this tactic any more in their approach to the general public."
He said people should not be afraid to contact the authorities even if contracted work has started.
After Friday's convictions, Age Cymru said it was campaigning for more No Cold Calling Zones to be set up across Wales.