£1m cannabis factory in Porth's former Apollo nightclub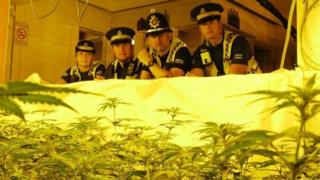 Cannabis worth an estimated £1m has been found growing over three floors of a former Rhondda nightclub.
More than 1,000 plants were found by police at the Apollo club in Porth in what officers said was a sophisticated operation.
The three-storey building had only been empty for around three months.
Two men, believed to be foreign nationals, have been arrested on suspicion of cultivating cannabis.
Sgt Chris Peters said: "This was a massive and timely find. It is one of the biggest, most sophisticated operations I have come across to date, which was capable of generating drugs worth millions over a 12-month period.
"It looks like we got here just in time, as many plants were ready for harvest and would have been changing hands on the streets in no time."
Police said officers acted on information from the public and executed a drugs warrant at 10:00 BST.
The bulbs and extractor fans used in the operation would have "demanded enough electricity to power three streets of terraced houses", said officers.
Former bar areas and dance floors had become "vast growing spaces converted solely for the use of cannabis production" while the first floor was used as a nursery for newly-potted plants.
The ground and second floor was used for plants "at mid to late stages of growth" and mature plants were found on the top floor ready for harvest.
It is thought the growers kept chickens in what used to be the public toilets, which were covered in what appeared to be chicken faeces.
Officers suspect chickens were being reared and slaughtered for food there.