Caen names square after D-Day veteran Stanley Gilchrist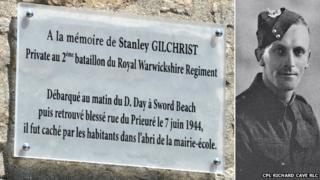 The French city of Caen has named a square after a wounded D-Day veteran who gave locals hope that they were going to be liberated from the Nazis.
Stanley Gilchrist, from Cwmfelinfach, Caerphilly, landed on Sword beach on 6 June but was soon shot in the thigh.
Germans troops left him in Herouville, now a Caen suburb, and villagers tried to hide him in the town hall grounds.
A D-day 70th anniversary event was held at Place Stanley Gilchrist in honour of the veteran who died aged 93 in 2008.
Mr Gilchrist was a private in 2nd battalion of the Royal Warwickshire Regiment, part of the British 3rd Division, when he ran ashore in Normandy.
But within hours he had been shot, captured and taken inland by the enemy after he and follow soldiers were ambushed.
Maj Laurence Roche, from 3rd Division, said: "The Germans brought him to Herouville with another injured soldier, where they were paraded through the streets and subsequently left abandoned.
"The villagers cared for the two British soldiers before the Germans returned to take them prisoner the following day.
"Gilchrist spent the remainder of World War Two as a prisoner of war. It is not known what happened to his injured comrade."
Even though it took weeks for the Allies to finally liberate Herouville, then a separate village on the outskirts of Caen, local people wanted to recognise Pte Gilchrist as the first British soldier to enter their square.
Mr Gilchrist's son, Keith, who lives in Swindon, told the South Wales Argus newspaper that after the Germans returned his father was taken to Rennes as a prisoner of war and was freed there by American troops in August 1944.
He said: "After the war my father wrote to the local councillors and newspapers to try and find out where he'd been and to see if he could thank the people who helped him."
Mr Gilchrist said he father, who worked as the pit head baths superintendent at the Nine Mile Point Colliery, visited the town every year from 1984 to 2004 and kept in touch with his rescuers.
Counterattack
He added that his father was chairman of the Ynysddu and Cwmfelinfach Royal British Legion and for 42 years he organised the local poppy appeal.
Place Stanley Gilchrist is next to the school yard in Herouville where local people tried to hide him.
British losses in the Sword beach area on D-Day, are estimated to be around 683 men as troops faced the only armoured counterattack of the day, mounted by the 21st Panzer Division.
Maj Roche added: "It is particularly gratifying to see that the people of Normandy still remember the individual stories of British soldiers, such as Pte Stanley Gilchrist, who enabled the freedom of Europe, and in doing so contributed so much to the history of this region."