Historic St Michael's College name could change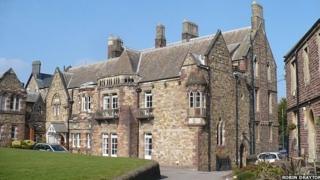 A church college which has trained priests in Cardiff for more than 120 years could lose its historic name in a radical change of use.
St Michael's College, Llandaff, which has been on the site since 1904, will be redeveloped after making a "substantial loss".
The Church in Wales said it would continue to train clergy, but perhaps not under the original name.
St Michael's staff said a name change would have "profound implications".
The church's Bench of Bishops has backed the creation of an institute "hub" at the Llandaff site, with other centres around Wales, including Bangor and Carmarthen.
They say it is a radical change which will address the problems the church faces, including the move away from the "one vicar, one church" model.
Name 'will go'
St Michael's currently has space for 18 residential students, 38 non-residential students. It has 20 full-time staff.
Its north Wales counterpart, St Seiriol's already acts as a hub for the region, with 300 people studying on its courses, validated by Glyndwr University in Wrexham.
The Church in Wales bishops said the new model of training clergy would develop an institute offering a "dynamic and exciting way forward".
However, they also confirmed that the St Michael's name is likely to go when the new institute is up and running by 2016 or 2017.