Aamir Siddiqi killers Hope and Richards lose appeals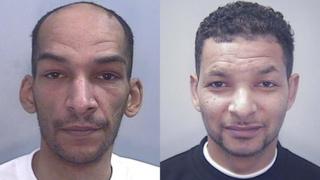 Two hitmen who stabbed a Cardiff teenager to death in front of his parents after targeting the wrong house have lost their appeals.
Ben Hope, 40, and Jason Richards, 39, were jailed last year for a minimum of 40 years for killing 17-year-old student Aamir Siddiqi in 2010.
Both lost appeals against sentence. Richards lost his conviction appeal.
Lord Chief Justice Lord Thomas at the Court of Appeal said Richards's conviction was "entirely safe".
The pair were convicted of the "brutal, savage, callous and cruel" murder at Swansea Crown Court in February 2012.
Aamir's sister Miriam said the family's life had been "at a standstill" since her brother's murder.
The court heard the killers turned up at the wrong address on an adjacent street in Roath.
Aamir answered the door expecting a visit from his Koran teacher.
They were also found guilty of attempting to murder Aamir's parents as they tried to protect their son who was chased through the home and "hacked" to death.
The appeals were heard in Cardiff by Lord Thomas, Mr Justice Wyn Williams and Mr Justice Phillips.
Announcing the appeal court's decision in a written judgment, Lord Thomas said the minimum jail terms "rightly reflected the entire criminality" of the attack.
He said: "This was an appalling series of crimes for which the minimum term of 40 years was just punishment, reflecting not only the premeditated and brutal nature of the murder and attempted murders but also a deterrent element in respect of contract killings which have no place in any civilised society."
'Hole in our lives'
Lord Thomas said Hope and Richards, who were wearing balaclavas and wielding knives, "brutally attacked and killed Aamir" after forcing their way into the family home.
He added: "As Aamir's parents made valiant and desperate attempts to protect their son, they were also viciously attacked and stabbed.
"It subsequently emerged that the two men were contract killers who, by grotesque mistake, had gone to the wrong house.
"The evidence was that they had been engaged by a local drug dealer, to whom we shall refer as XD, to kill a person who lived in a house in an adjoining street."
Aamir's sister Miriam told BBC Wales: "We'll always miss Aamir, every second of the day, every moment. No-one could replace him. There's a hole in our lives.
"And not only that, the severity of what happened has left psychological impacts for my parents and ourselves.
"It's about learning how to cope as opposed to moving on.
"We'll never get relief because my brother has gone, but I have a respect for the legal system that finally justice has been served."